Dog Trucker Hat | Size Tiny Dog Hat
Regular price
Sale price
$26.95 USD
Unit price
per
Sale
Sold out
Example Breeds

Chihuahua (smaller), Maltese (smaller), Pomeranian (smaller), Toy Poodle, Yorkshire Terrier
Sizing Guide

Tiny
XXS
XS
Small
Medium
Large
Bill Width
3.35"
3.85"
4.5"
5.25"
5.9"
6.4"
Head Width
2.5" to 3.25" 
3" to 3.75"
3.5" to 4.25"
4" to 5"
4.5" to 5.75"
5.5" to 6.25"
Neck Size
8 to 10 inches
10 to 12 inches
12 to 15 inches
14 to 16 inches
15 to 18 inches
17 to 21 inches
Approx. Weight
about 5 lbs.
7 to 14 lbs.
13 to 25 lbs.
22 to 45 lbs.
40 to 65 lbs.
60 to 100 lbs.

 

Size
Popular Breeds
Tiny
Chihuahua (smaller), Maltese (smaller), Pomeranian (smaller), Toy Poodle, Yorkshire Terrier
XXS
Brussels Griffon (smaller), Chihuahua (larger), Italian Greyhound, Jack Russell (smaller), Maltese (larger), Mini 

Dachshund

, Papillon, Pomeranian (larger)
XS
Boston Terrier (smaller), Brussels Griffon (larger) Cavalier King Charles Spaniel, Cocker Spaniel (smaller), French Bulldog (smaller), Jack Russell Terrier (larger), Pug (smaller), Shiba Inu (smaller), Shih Tzu (larger)
West Highland Terrier
Small
Australian Shepherd (smaller), Beagle (smaller), Border Collie (smaller), Boston Terrier (medium), Cocker Spaniel, French Bulldog (medium), Pug (larger)
Medium
Australian Shepherd (larger), Beagle (larger), Border Collie, Boston Terrier (larger), Boxer, Doberman Pinscher (smaller), French Bulldog (larger), Golden Retriever (smaller), Greyhound, Labradoodle, Pit bull (smaller)
Large
Akita, American Bulldog, Bernese Mountain Dog (smaller), Cane Corso, Doberman Pinscher (larger), English Bulldog, German Shepherd, Great Dane, Labrador Retriever (larger), Pit bull (larger), Rottweiler, St. Bernard (smaller)
We're excited to continue our partnership with Shelter to Soldier, an organization dedicated to rescuing and training service dogs to be lifelong companions of post-9/11 veterans suffering from trauma. With 15% of sales from the Shelter to Soldier x PupLid Collection going directly to this cause, your purchase will benefit the lives of both veterans and dogs in need. Join us in making a difference.
A great fit is important! Please use our Sizing Chart to ensure the size matches your pup's head and the Features page to see how PupLids can be adjusted for the Furfect Fit.
For more PupLid tips, check out this short video by professional dog trainer Nicole Ellis.
PupLid Gen 2 Benefits and Features: 

- Head-turning style for your pup while protecting their eyes from the sun

- The hat your dog will actually want to wear - see our step by step video to introduce them to a puplid

- Easy to put on and fits comfortably around the ears due to its patented design

- Effective protection for dogs with eye conditions like pannus and iris atrophy

- Made from the same materials as the highest quality human trucker hats

- Veterinarian Approved
Shop size larger:
Shelter to Soldier x PupLid | Size XXS Dog Hat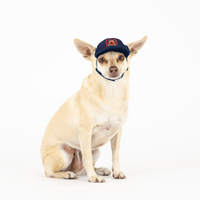 Share
View full details